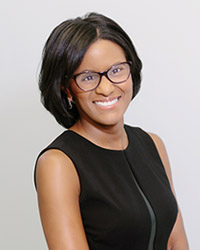 Dr. Cheska Avery
Dr. Avery isn't like most dentists. She takes a unique approach to dentistry by focusing on each patient individually. Listening to her patients, getting to know them personally and teaching them everything they need to know about their oral health care are the main reasons her patients love to visit. Dr. Avery is dedicated to putting her patients first.
Dr. Avery attended DePaul University in Chicago, IL and graduated with a Bachelor of Arts degree. After graduating from DePaul, she remained in Chicago and worked as a social worker for six years before pursuing her career in dentistry. Dr. Avery earned her DDS from Marquette University School of Dentistry and has been practicing for over 10 years. Her experience in social work gave her the opportunity to learn how to work with individuals during difficult times and make dentistry a positive and comfortable experience for her patients. She believes in a comprehensive approach towards dentistry and educating patients to recognize the significance of maintaining good oral health.
Dr. Avery enjoys being active in the profession and is a member of several professional and community organizations. She has served on the Board of Directors for the Greater Milwaukee Dental Association and was recently elected President Elect for 2015-2016. Dr. Avery serves as Co-Chair of the mentorship program sponsored by the Pierre Fauchard Academy, the Wisconsin Dental Association and Marquette University School of Dentistry. She also organizes and volunteers at Give Kids A Smile Day and Head Start Dental Day, which provide free dental screenings for the underserved. Dr. Avery is a member of the American Dental Association, Wisconsin Dental Association, Greater Milwaukee Dental Association, Lake County Dental Association, Academy of General Dentistry, Chicago Dental Society and is a Pierre Fauchard Academy Fellow.
Dr. Avery was born in Panama City, Panama and is fluent in Spanish. She currently lives in downtown Milwaukee with her husband Gary, and enjoys cooking, music, traveling, and trying new restaurants.
PROFESSIONAL AFFILIATIONS:
• American Dental Association
• Wisconsin Dental Association
• Greater Milwaukee Dental Association
• Lake County Dental Association
• Academy of General Dentistry
• Chicago Dental Society
• Pierre Fauchard Academy Fellow
• American Academy of Cosmetic Dentistry