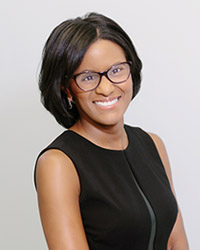 Dr. Cheska Avery
Dr. Avery has been in the Waukegan community since 2011. She has established a dental practice that is patient centered and dedicated to patient care and comfort. She wants every patient to feel as though they are part of the family. Avery Family Dentistry delivers high quality dentistry in a safe and welcoming atmosphere.
Dr. Avery attended DePaul University in Chicago, IL and graduated with Bachelor of Arts Degree in Sociology. After graduating from DePaul, she remained in Chicago and worked as a social worker for six years. Although she enjoyed her experience in social work, she maintained aspirations for a career in healthcare, which led her to eventually pursue dentistry.
Dr. Avery graduated from Marquette University School of Dentistry with her Doctor of Dental Surgery. Dr. Avery enjoys being active in the profession and is a member of several professional and community organizations. She has served on the Board of Directors for the Greater Milwaukee Dental Association, including serving as President. Dr. Avery serves as Co-Chair of the mentorship program sponsored by the Pierre Fauchard Academy, the Wisconsin Dental Association and Marquette University School of Dentistry. She has also organized multiple Give Kids A Smile Day and Head Start Dental Day, which provide free dental screenings and treatment for underserved children in the Milwaukee area. Dr. Avery is serving as Wisconsin Dental Association Trustee, representing the greater Milwaukee area. Most recently, Dr. Avery was appointed to serve on the American Dental Association's Council on Dental Education and Licensure. Dr. Avery stays up to date with the profession and takes various continuing education courses throughout the year. She is an elected member of the Milwaukee Dental Forum, Milwaukee's oldest dental study club.
PROFESSIONAL AFFILIATIONS:
• American Dental Association
• Wisconsin Dental Association
• Greater Milwaukee Dental Association
• Lake County Dental Association
• Academy of General Dentistry
• Chicago Dental Society
• Pierre Fauchard Academy Fellow
• Milwaukee Dental Forum